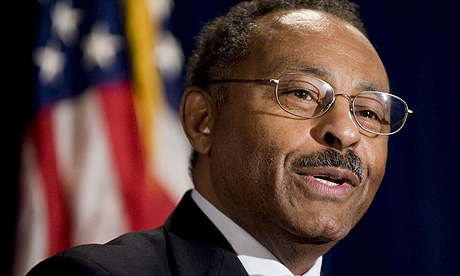 Roland Burris (Photo from The Guardian)

From The Chicago Tribune:

U.S. Sen. Roland Burris' lawyer is warning of a fight if lawmakers and Gov. Pat Quinn try to dislodge Burris from office by approving a special election for his Senate seat---and the warning includes an indication that Burris could run in 2010.
Burris has rejected calls for his resignation by several leading Democrats concerned about his various explanations of the extent of contacts he had with allies of former Gov. Rod Blagojevich. Burris was appointed by Blagojevich to the Senate three weeks after Blagojevich was arrested on federal corruption charges that included an allegation he sought to sell the Senate seat vacated by President Barack Obama.
Read more
....
My Comment
: Roland Burris' lawyer has a point .... but it is hard to defend Sen. Burris' rights when he was not even elected to the Senate .... but appointed by a "corrupt" Governor.