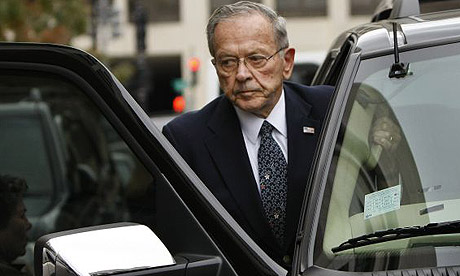 Ted Stevens leaves a federal courthouse in Washington on Monday. Stevens was convicted on corruption charges. Photograph: Gerald Herbert/AP (The Guardian)
From Politico:
In a surprising move, the Justice Department has removed the prosecution team that won the corruption conviction of former Sen. Ted Stevens (R-Alaska) from any further litigation in the case, according to a new court filing.
This comes after Judge Emmet Sullivan, who presided over the Stevens trial and continues to preside over post-conviction fights over the legitimacy of those proceedings, ruled that four DOJ lawyers, including Brenda Morris, chief prosecutor in the Stevens' case, and William Welch, head of DOJ's Public Integrity Section, were in contempt for failure to comply with his orders.
Sullivan has been angered by the Justice Department's unwillingness to turn over documents and other materials related to accusations by whistleblower Chad Joy. Joy, an FBI special agent who took part in the Stevens case, alleges that prosecutors concealed evidence that would have helped Stevens' defense team. The Justice Department has denied Joy's charges.
Read more
....
My Comment:
As I had mentioned yesterday, this is an unbelievable story. To ignore the judge's orders now taints the entire process.
This was a slam dunk conviction .... now we have to ask the question .... was the evidence tainted?
These lawyers are now gone .... and if there is a body that metes out disciplinary actions against "stupid" lawyers .... I hope they go after this bunch.