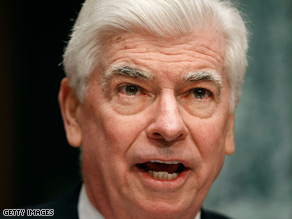 From CNN:
(CNN) -- A defiant Sen. Chris Dodd defended his actions on bonuses for AIG executives Friday as news surfaced that a senior company executive was returning his $6 million bonus.
Dodd said he was misled on the issue of bonuses for AIG executives. He claimed he would not have drafted key legislative changes allowing the bonuses to move forward if he knew the purpose of those changes.
Meanwhile, a senior AIG executive said through a company spokesman that he will return his $6 million bonus. The executive, Doug Poling, is returning the money "because it's the correct thing to do," said Mark Herr, an AIG spokesman.
Read more
....