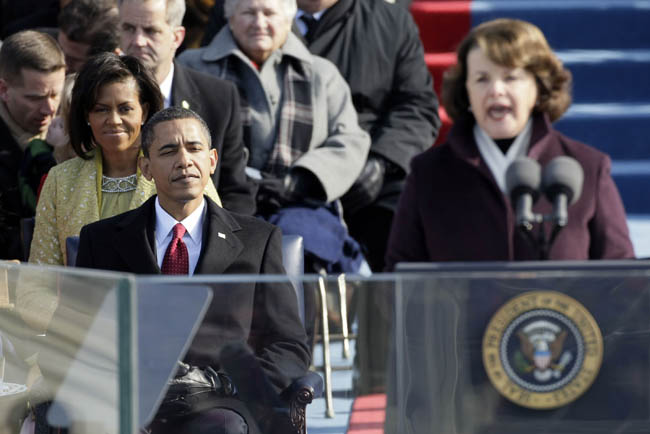 Sen. Dianne Feinstein at President Obama's Inauguration
(Photo from Minnesota Public Radio)
EXCLUSIVE: Senator's Husband Cashes In On Crisis -- Washington Times
Feinstein sought $25 billion for agency that awarded contract to spouse
On the day the new Congress convened this year, Sen. Dianne Feinstein introduced legislation to route $25 billion in taxpayer money to a government agency that had just awarded her husband's real estate firm a lucrative contract to sell foreclosed properties at compensation rates higher than the industry norms.
Mrs. Feinstein's intervention on behalf of the Federal Deposit Insurance Corp. was unusual: the California Democrat isn't a member of the Senate Committee on Banking, Housing and Urban Affairs with jurisdiction over FDIC; and the agency is supposed to operate from money it raises from bank-paid insurance payments - not direct federal dollars.
Read more
....
Update:
What Is Old Is New Again... Sen. Feinstein Steers $25 Billion to Agency Linked to Her Husband
-- Gateway Pundit
My Comment:
This is not the first time that Sen. Feinstein has been implicated in a conflict of interest with her husband .... probably will not be the last. But it is infuriating that before the announcement of this contract was made .... 10 million shares were bought (by her family) .... and bought at a time that is regarded to be the worst since the Great Depression .... and when the contract was announced they end up walking away with a cool 20 million in profit (at today's price).
Sigh .... this Congress really stinks.